Croquet in Capistrano- San Juan Capistrano Friends of the Library
by Michael Rumbin · 09/08/2014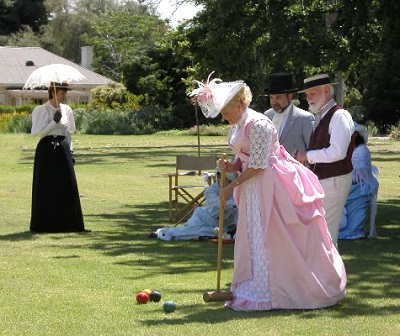 The SJC Friends of the Library are holding a Cutthroat Croquet Tournament Saturday September 13 at the La Sala Courtyard on the grounds of the SJC library. The game is a variation of the old backyard 9 wicket format played by Judge Egan, Madame Modjeska and the early settlers of Orange County 125 years ago. This event is open to the public and will be refereed by representatives of the United States Croquet Association.
The croquet tournament is part of a Multicultural Arts Series of concerts in the courtyard at the award-winning library, designed by world renowned architect Michael Graves. The address is 31495-A El Camino Real, in San Juan Capistrano.
The city is also celebrating the 125th Anniversary of the founding of Orange County with a day filled with events.Orange County 125th Celebration Events
[, 1MB]
There will be docent led tours of the historic downtown area, a call to Hug the Mission , and many other events throughout the day.
A reenactment of the 1889 press conference with Judge Egan and a special appearance by Madame Modjeska will take place at 4 PM.. Judge Egan, who was highly influential in town at that time and was on the L.A. County Board of Supervisors, was instrumental in the negotiations of the boundary lines of the division of the county, so he will announce the vote creating the county. A room full of Madame Helena Modjeska authentic re-created costumes from her international Shakespearean career will be on display on mannequins on Saturday (12-5) and Sunday (12-5) in the room in used for 1889 press conference.
Madame Helena Modjeska lived at her home (Arden) in what is now Modjeska Canyon and was a frequent guest at Judge Egan's Harmony Hall home, the center of social life in the SJC region. Her costumes have been meticulously recreated by international artisans through a contest hosted by the Modjeska Society.
In the evening Christina Duane and the Oregon Trail Singers will perform two concerts with a "Musical History of the American West".C. Duane & Oregon Trail Singers
[, 1MB]
For more information go to www.sjcfol.org.